Extra space at the table
Thanksgiving is almost here, and with it comes a bevy of friends and family to your home. Unless you live in a mansion, you probably don't have the seating capacity for everyone to eat comfortably and likely don't have enough eating surfaces. For both situations, consider folding chairs for extra seating.
Folding chairs are good for more than just Thanksgiving. The Super Bowl, for example, is only a few months away. Buying folding chairs in sets is the best way to go, as it gives you the most options for the best value.
October Prime Day: Here are the best early deals
Shop this article: Amazon Basics Folding Chair Set, Meco Folding Chair Set and Plastic Development Folding Chair Set
Quantity included
Folding chair sets come in many quantities, and typically even ones. Sets of two, four and 10 are the most common, followed by sets of six, 12 and 24. You can find sets even larger than 24 if your need is dire, though these are typically marketed to venues rather than homes.
Weight capacity
After quantity, the most critical aspect of folding chairs is their weight capacity. Most folding chairs have capacities of at least 200 pounds, though smaller capacities can be found in child-sized chairs. Most chairs have around 300-pound capacities, though the most rugged can have capacities of up to 1,000 pounds.
Comfort
The most important aspect to your guests is neither how many nor how strong your chairs are, but how comfortable they are. Comfort is typically a result of the seat and seat back designs and whether the chairs have cushions.
For the seats and seat backs, the best chairs are contoured. This contouring doesn't have to be significant: Just a little bend in the back and a dip in the seat will provide adequate comfort for your guests' spines, legs and buttocks.
The most comfortable folding dining chairs are cushioned, either in addition to or instead of contouring. These cushions can be built into the chair or left separately so you can adjust them slightly. You can always buy chair cushions to go with your chair set too.
Material
Most folding chairs are made of metal, though some are made of wood or plastic instead.
Metal folding chairs are typically the most durable and have the highest weight capacities. As such, they're also the most common. In terms of design, they're usually on the simple side. They're in the middle of the pack when it comes to cost.
Wooden folding chairs are typically the most attractive, plus they're usually durable with good weight capacities. This combination makes them the costliest of the bunch, but they are invaluable to those who want to set a better ambiance.
Plastic folding chairs are usually the least durable and have the lowest weight limits, but they are the cheapest option. They also have a not-so-secret ability that metal and wood lack: They can be safely used outside without fear of water damage.
Design
If your folding chairs only come out on rare occasions, you can safely prioritize function and value. However, if you regularly find yourself breaking them out, then it's wise to pick ones that fit in with the rest of your furniture.
Cost
Small sets of four or five chairs typically cost $25 to $75. Larger sets of up to 12 typically cost $75 to $150. The largest sets of up to 24 or more chairs can cost $300 or more.
Best folding chairs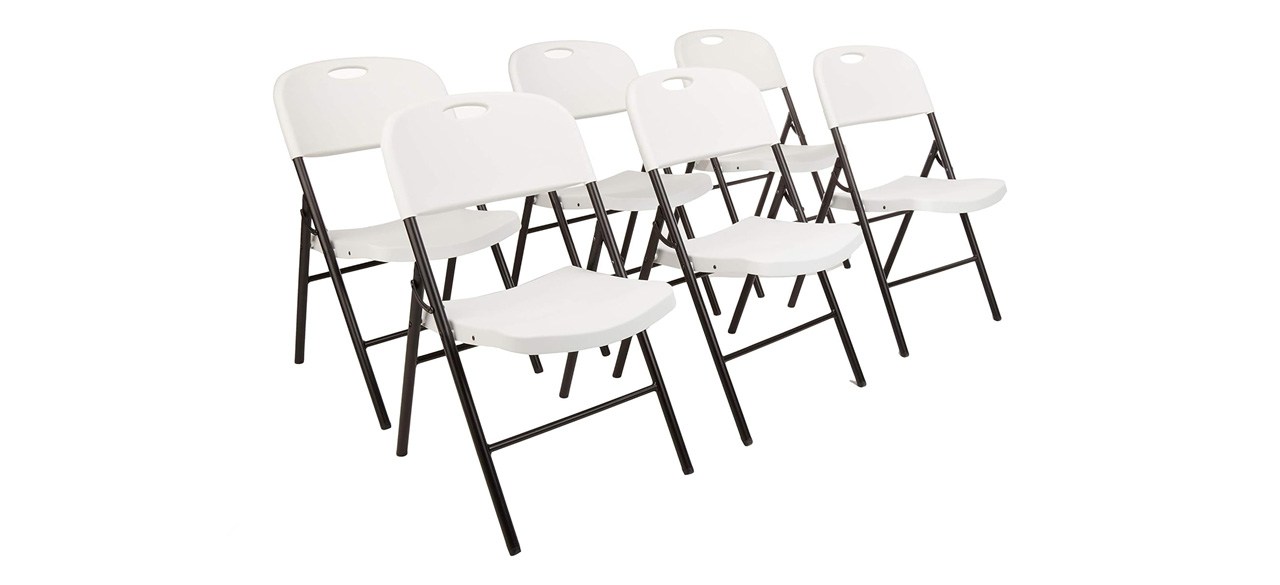 Amazon Basics Folding Chair Set
These white folding chairs are contoured for comfort and can hold up to 350 pounds. They use a mix of metal and plastic. They come in sets of two, four and six and are also available in black.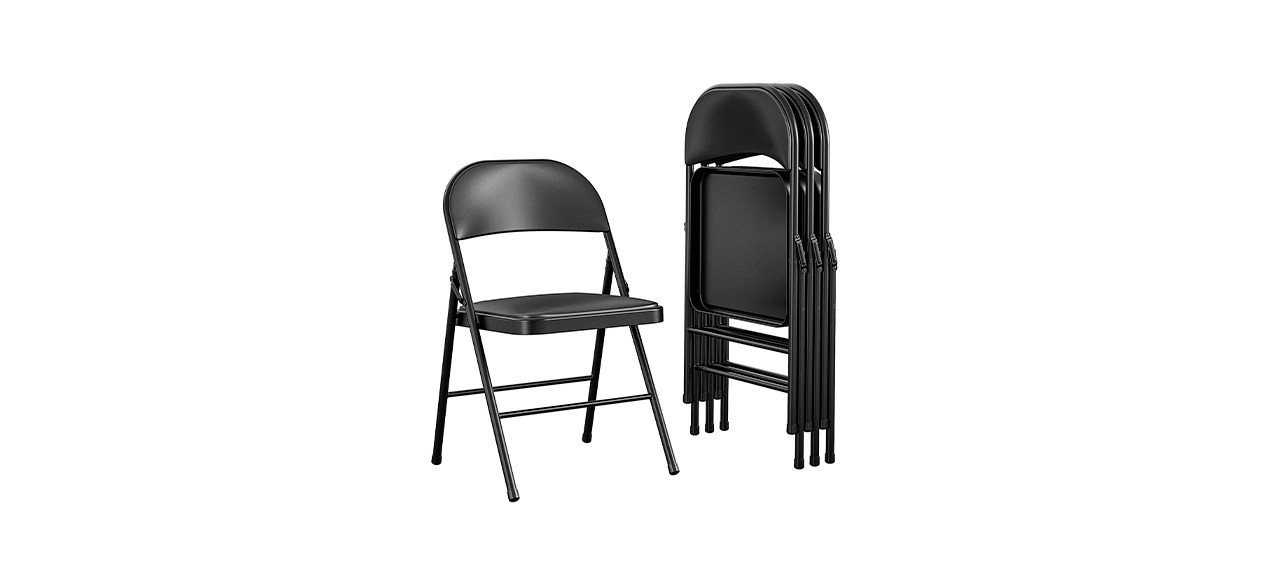 Cosco Products Folding Chair Set
These chairs have pads of vinyl on both the seat and the seat back. The rest is steel for durability and to achieve a weight capacity of 250 pounds. They come in a set of four and are available in black or beige.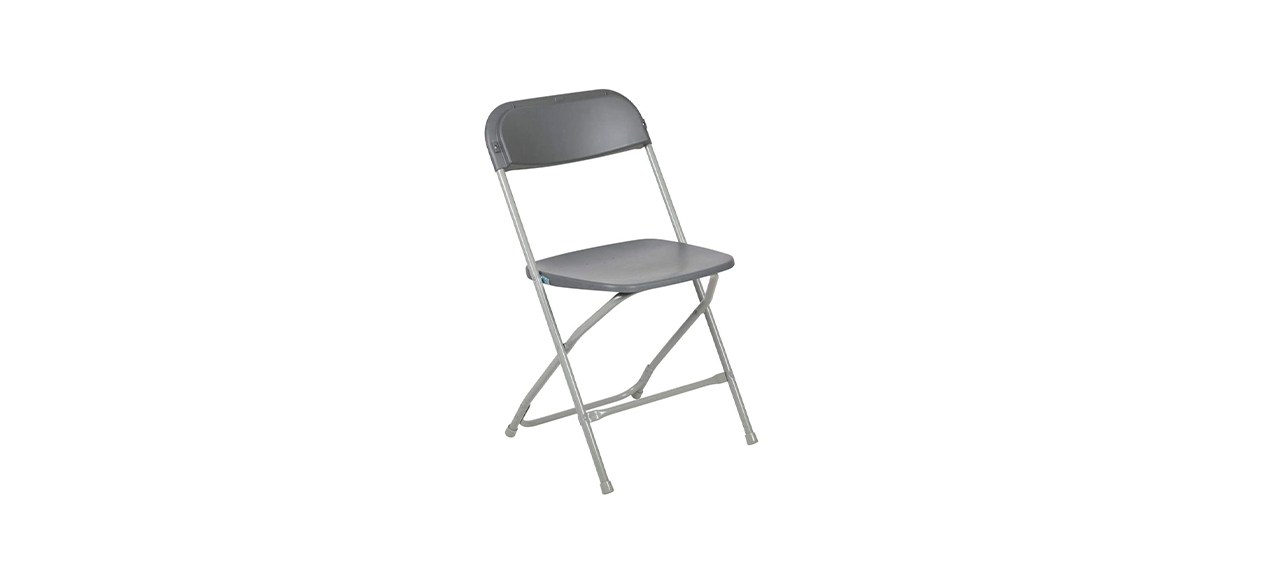 Flash Furniture Folding Chair Set
These chairs have double support braces and use 18-gauge-steel frames, plus they have protective floor caps that won't leave scuff marks. They come in sets of two, four, six and 10 and are available in seven colors.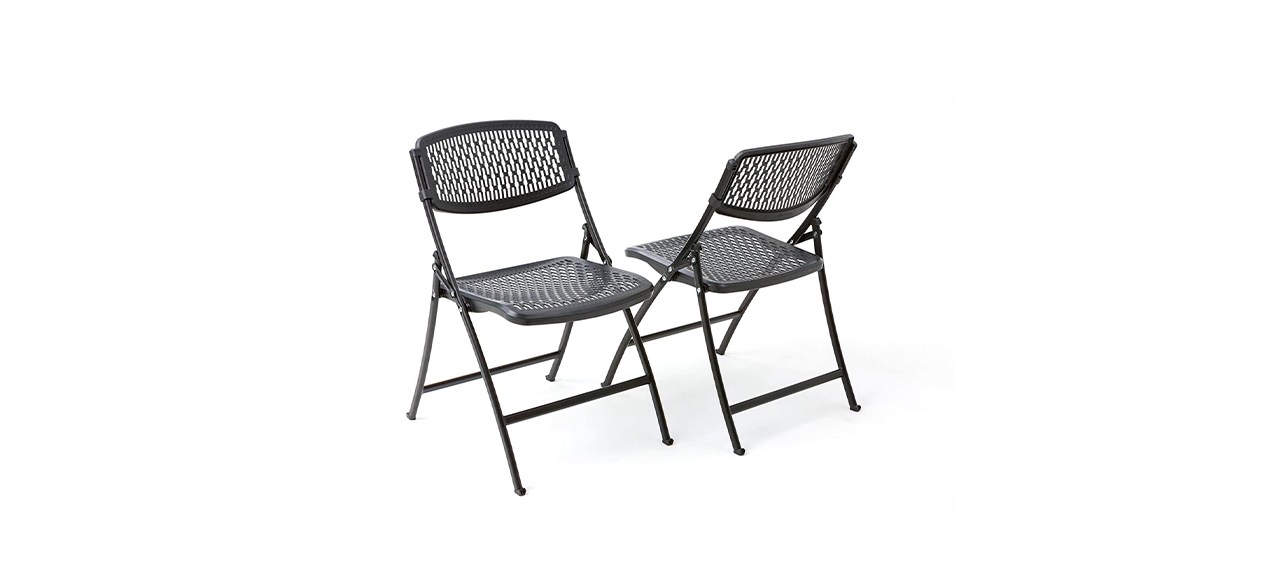 These plastic chairs are no joke, as they can hold up to 1,000 pounds. The mesh also makes rain pass right through them. They come in a set of four and are available in all black or a combination of black and silver.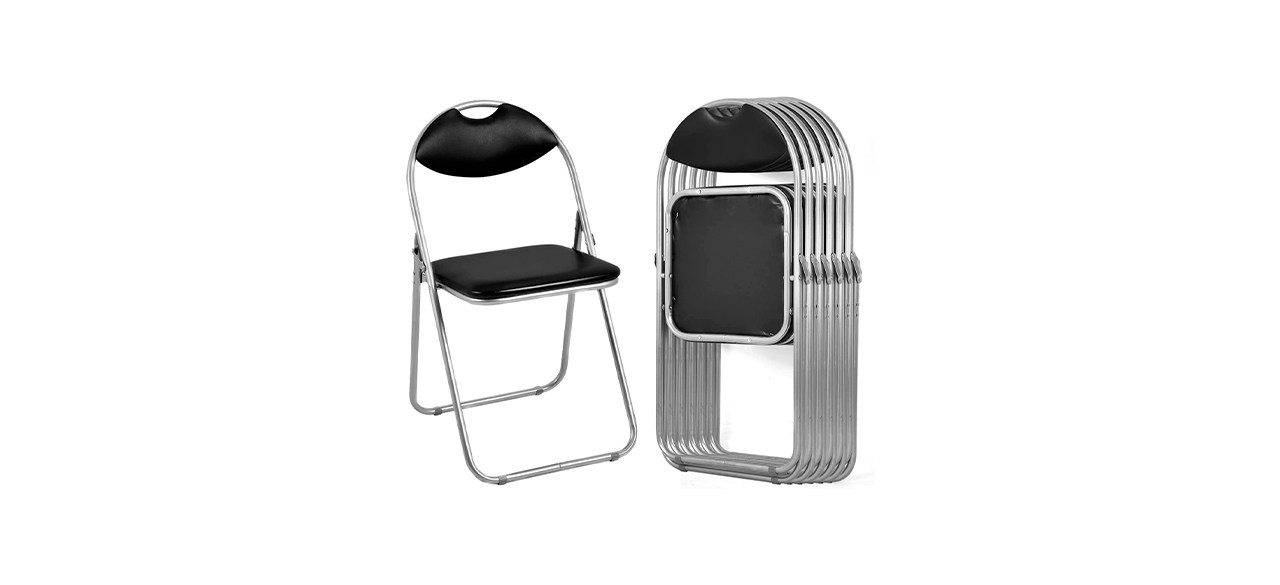 These chairs fold completely flat for the most space-conscious storage. They can hold up to 254 pounds. They come in a set of six with a black-and-silver color scheme.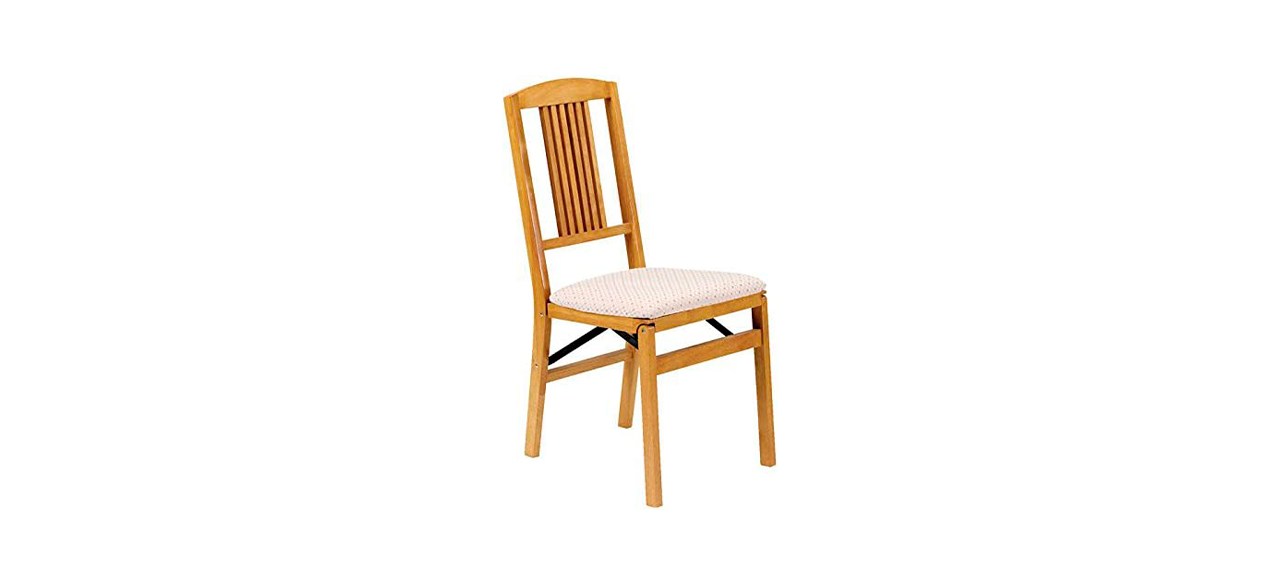 These elegant chairs look remarkably like normal, non-folding chairs, making them perfect for people who dislike the slapdash look of regular folding chairs set up across the living room. They come in a set of two.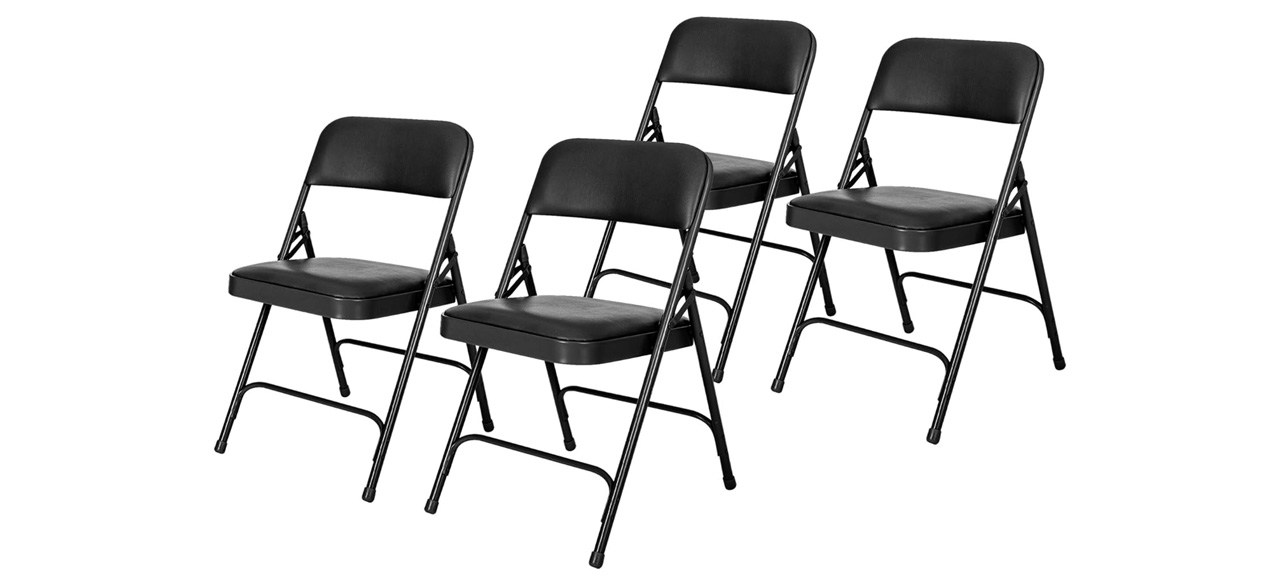 OEF Furnishings Folding Chair Set
These black folding chairs have especially thick padding on the seat plus a reasonably padded seat back. They have a weight capacity of 450 pounds and come in a set of four. They're also available in beige, dark blue and gray.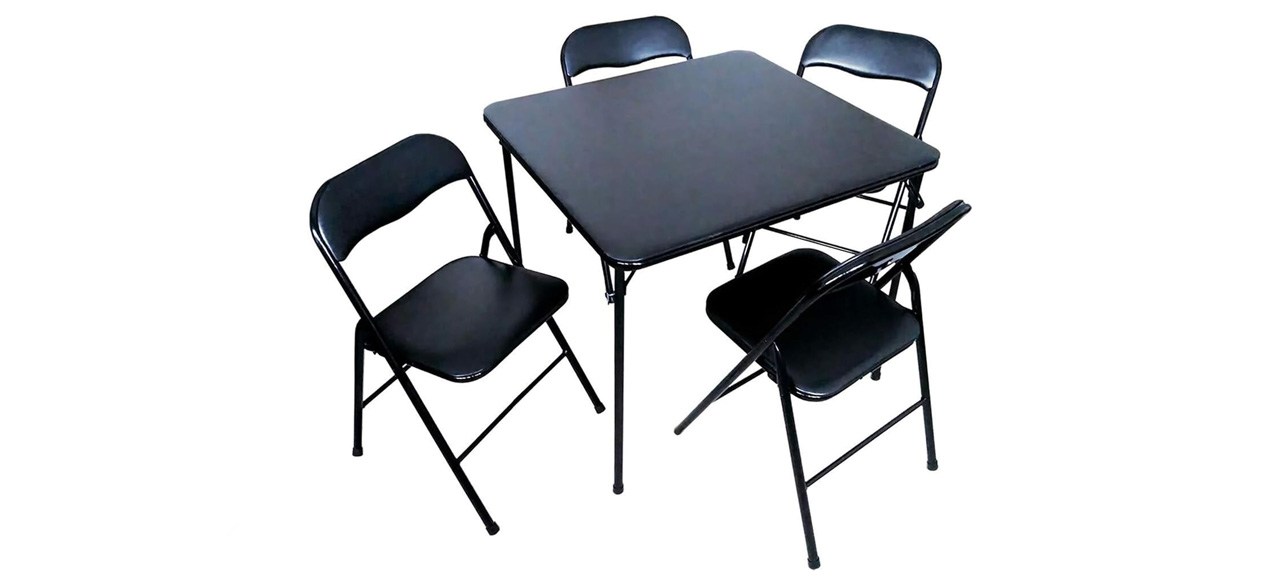 Plastic Development Folding Chair Set
This folding table and chair set is a strong choice for Thanksgiving dinners, as it includes not only four chairs but also a matching folding table to go with them. Get one set for every four extra people you need to host.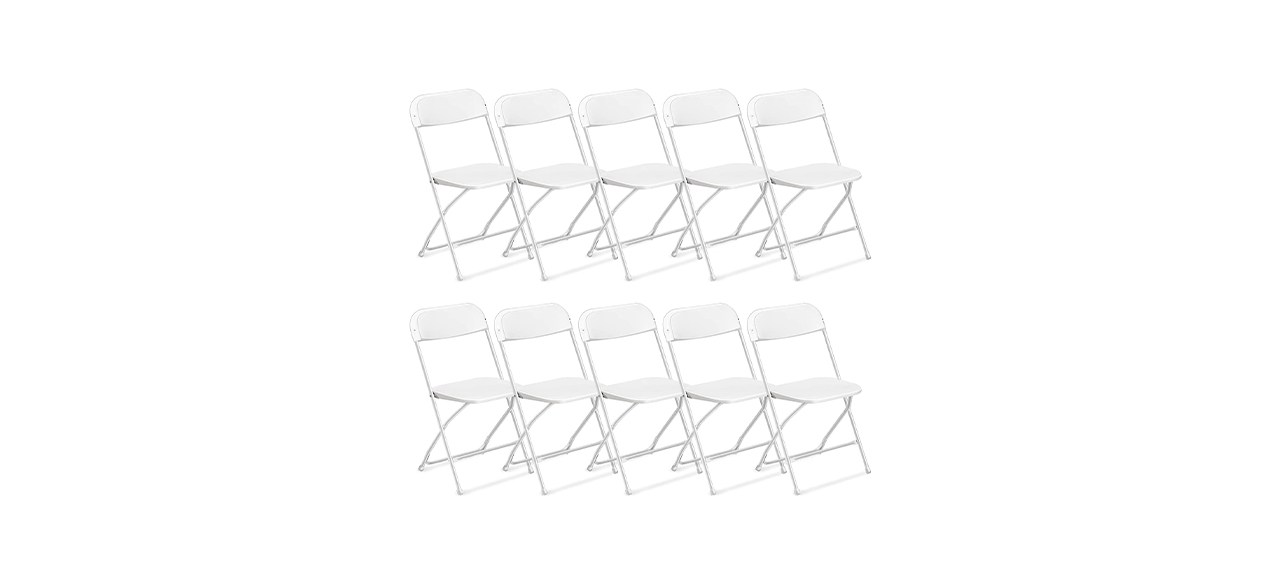 These chairs come in sets of four, five, six and 10. Each set is value-priced, making them great for those who need to order enough chairs for an army. They come in two color options: black and white.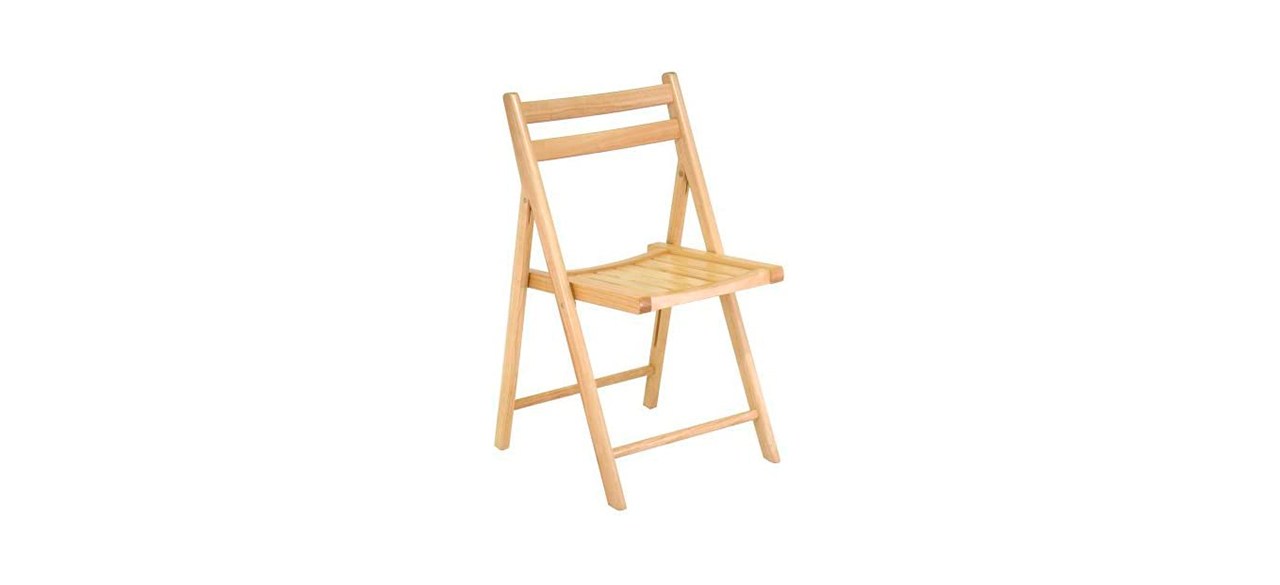 These chairs come assembled and are made of solid wood for durability and fashion. They come in a set of four and are available in natural, teak, walnut and white finishes.
Want to shop the best products at the best prices? Check out Daily Deals from BestReviews.
Sign up here to receive the BestReviews weekly newsletter for useful advice on new products and noteworthy deals.
Jordan C. Woika writes for BestReviews. BestReviews has helped millions of consumers simplify their purchasing decisions, saving them time and money.
Copyright 2023 BestReviews, a Nexstar company. All rights reserved.